Kimagure Orange Road
is starting to rule my life--within the span of two days. Oh, the joy of 80's style anime and manga; they simply cannot be equaled in this day of shoddy entertainment. Certainly I am not so obstinate of such newer forms of the hobbies I love, but nothing is equivalent to that time period when an artist's work truly showed in each cell, compared to the glossed-over, computerized work that is so prevalent in anime today. Sure, Shirow Masamune's
Ghost in the Shell: Stand Alone Complex
is a fine accomplishment--from one of my favorite writers--but the mix of CGI and drawn art doesn't mesh together as fluidly as it could via hand drawn; but, as always, I digress.
I was turned on to
Kimagure Orange Road
from a forum for scrolling shooters, or "shmups". Someone started a post on anime that they would recommend, and thus the aforementioned anime was appraised by a few members and sought out by myself. I have yet to read the manga, but the art style is fairly similar in the anime, which pleasantly reminds me of the style of Rumiko Takahashi's
Ranma 1/2
,
Inuyasha
,
Maison Ikkoku
, etc.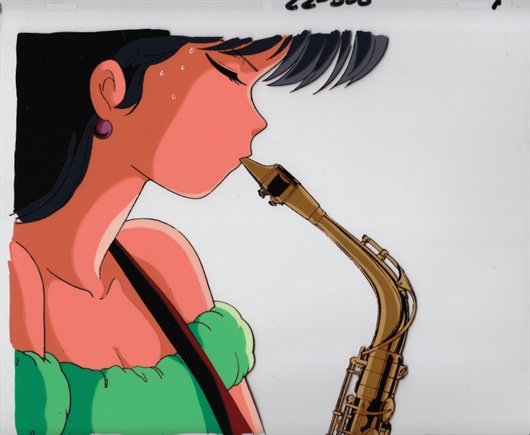 Anyhow, it's a shonen bit set in a town in the 80's. The story follows an esper boy in junior high who accidentally gets caught up in dating a younger girl, while simultaneously trying to win over her friend, whom he fell in love with the day he moved into this town. As I already mentioned the art style drew me in, it's also the enormously prominent 80's vibes and setting that is already making me so adherent towards the series. So many fucking leotards, vibrant colors, sweat shirts, and kickin' tunes. Kyosuke's main love interest, Madoka Ayukawa, plays a saxophone--and is damned good at it. When things get tense, or a collage of Kyosuke's thoughts and memories are displayed, you can always count for a remote saxophone to arise from the distance, crooning away a sweet melody that makes your fuckin' heart melt to the back drop of Kyosuke's narration of his teenage love-triangle. It's like Bruce Springsteen and the E Street Band is behind me as I anxiously wait for the next crucial move or indecisive mistake that will either make/break Kyosuke's attempt at love. Or I just fucking love saxophones. Oh, and there is a fat cat in Kyosuke's family, mainly playing the larger role of comedic relief, as well as the main interest in the obligatory anime interlude, so that is always a plus. I like cats. (and saxophones, obviously).
Shame pretty much everything that was introduced to the states in the series is now out of print, to which I am so forcibly accepted to dealing with anymore. Although such things are a slight hindrance, thankfully the internet is a plentiful and omniscient source for pretty much anything, and finding all the episodes via download is quite accessible. A bright ray of hope for future releases as of lately is keeping me fairly optimistic, for so many exciting announcements have been made for both anime, manga, and videogames. This past year has brought back the first episodes of the
Fist of the North Star
anime, as well as up to episode 72 fully translated, with even a 3rd collection coming out the 26th of this month (salivation). Not only that, but
Ghost Sweeper Mikami
has been released in full force with multiple collections for the anime, as well as re-releases of multiple arcs of
Revolutionary Girl Utena
, which have both left me thoroughly excited.
On the manga front we are receiving a generous helping of Osamu Tezuka releases, such as his shojo, and long out of print classic,
Princess Knight
in two volumes, as well as
Book of Human Insects
, a story that seems like one of his more morose, mature tales. Months before that, even,
Ayoko
was released in a nice hardcover edition, along with the occasional release of another
Black Jack
volume. A re-release of both the original
Sailor Moon
and
Sailor V
manga could quite possibly be the title(s) I look forward to the most, especially since I've only seen the first arc in the
Sailor Moon
anime, having never read the original material. Shit yeah.